Customer

Forest City Enterprises

Architect

Landscape Architecture Bureau

Year

2018

Location

Arlington, Northern Virginia, USA
Ballston Quarter opened in 1951 in Arlington, Northern Virginia, just outside Washington D.C. It was the first American shopping center built around a multi-story parking garage. The aging mall was renovated once in the 80's and at the end of the 2010's needed serious overhauling to make sure the space remained an integral part of the Arlington area well into the future.
The mall is a mixed-use project and houses a cinema as well as an ice stadium and several schools and clubs, making it an important community hub. Significant resources were invested in the creation and improvement of the public spaces around the mall. The urban environment served as the pilot for streetscape bioretention planting by Arlington County.
The urban strategy chosen for the 320 M USD project saw turning retailers out to the street to give the quarter a downtown feel, something that was emphasised by the project's "old meets new" aesthetics. This also included removing a large portion of the roof to convert the food court into a terraced gathering plaza that facilitates play, informal dining and events. At its pinnacle is an overlook which anchors the plaza to a boulevard. A circular Nova C Back configuration is the centrepiece the plaza and is frequently reconfigured to suit the events that take place there.
The previously claustrophobic galleria, in turn, was reconstituted into a series of open-air mews mimicking historical European alleyways. The goal was to break the wall between interior and exterior. Through garage style doors, you reach the new food court, featuring high ceilings and traditional outdoor building materials. Directly outside the dining area two curly Nova C Back configurations underscore the juxtaposition between eras that has come to characterise the Ballston Quarter.
Green retail space design
We turn retail spaces into community places. We use the principle of biophilic design to create welcoming environments where shoppers are encouraged to stay for a while and experience their surroundings at a slower pace. After all, longer dwell times are correlated to greater spending.
Discover more retail space design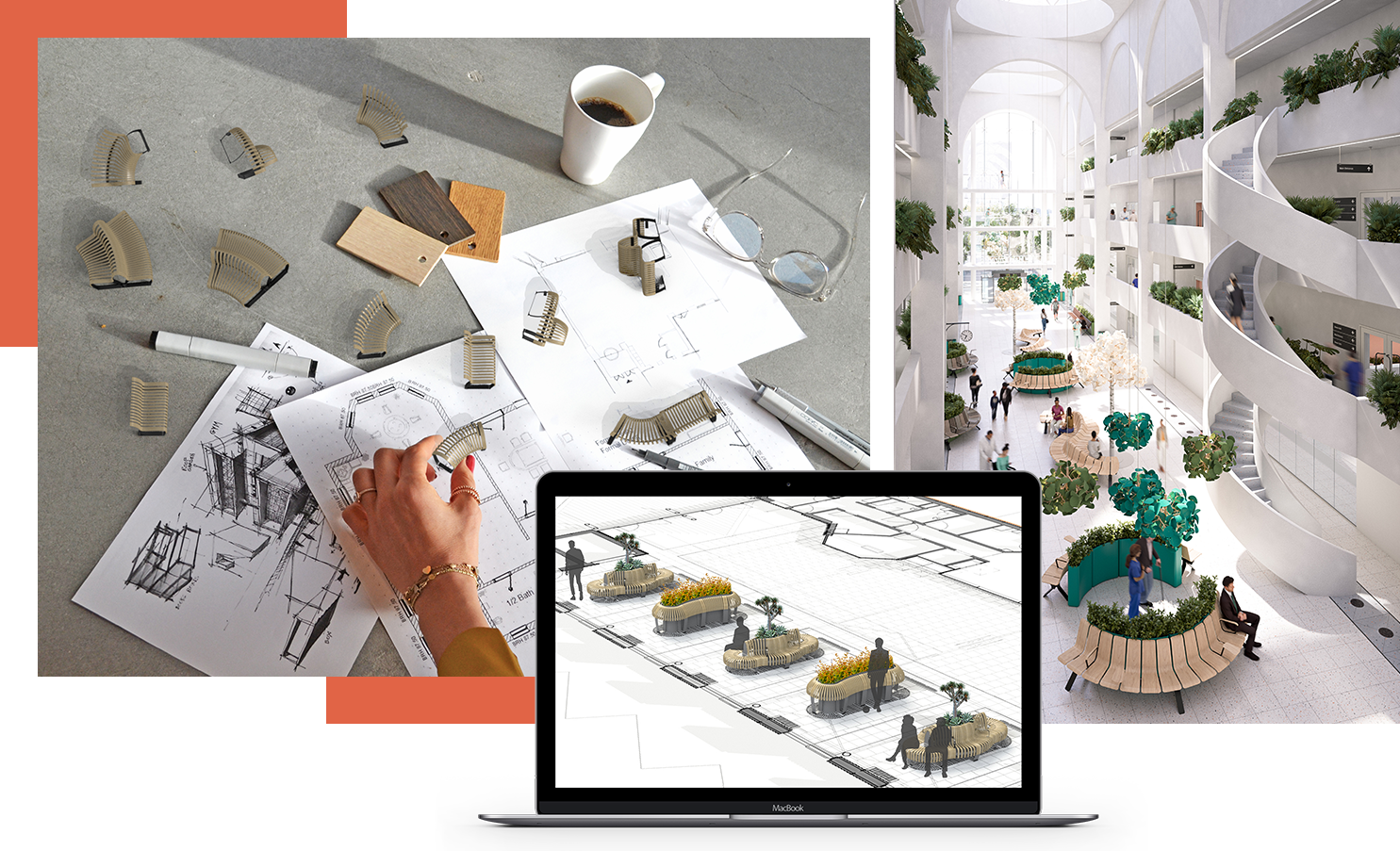 Let us design your next retail project
Our in-house designers will help you with a free 3D floor-plan rendering.