How high-density seating makes a difference
Published 28 March, 2019
by Bradley Quinn - Author & Journalist
Passenger numbers are increasing faster than airports can expand to accommodate them, challenging the industry to find solutions that work. As passenger capacity becomes a key issue, space-saving designs begin to solve seating shortfalls, often boosting passenger satisfaction in surprising ways.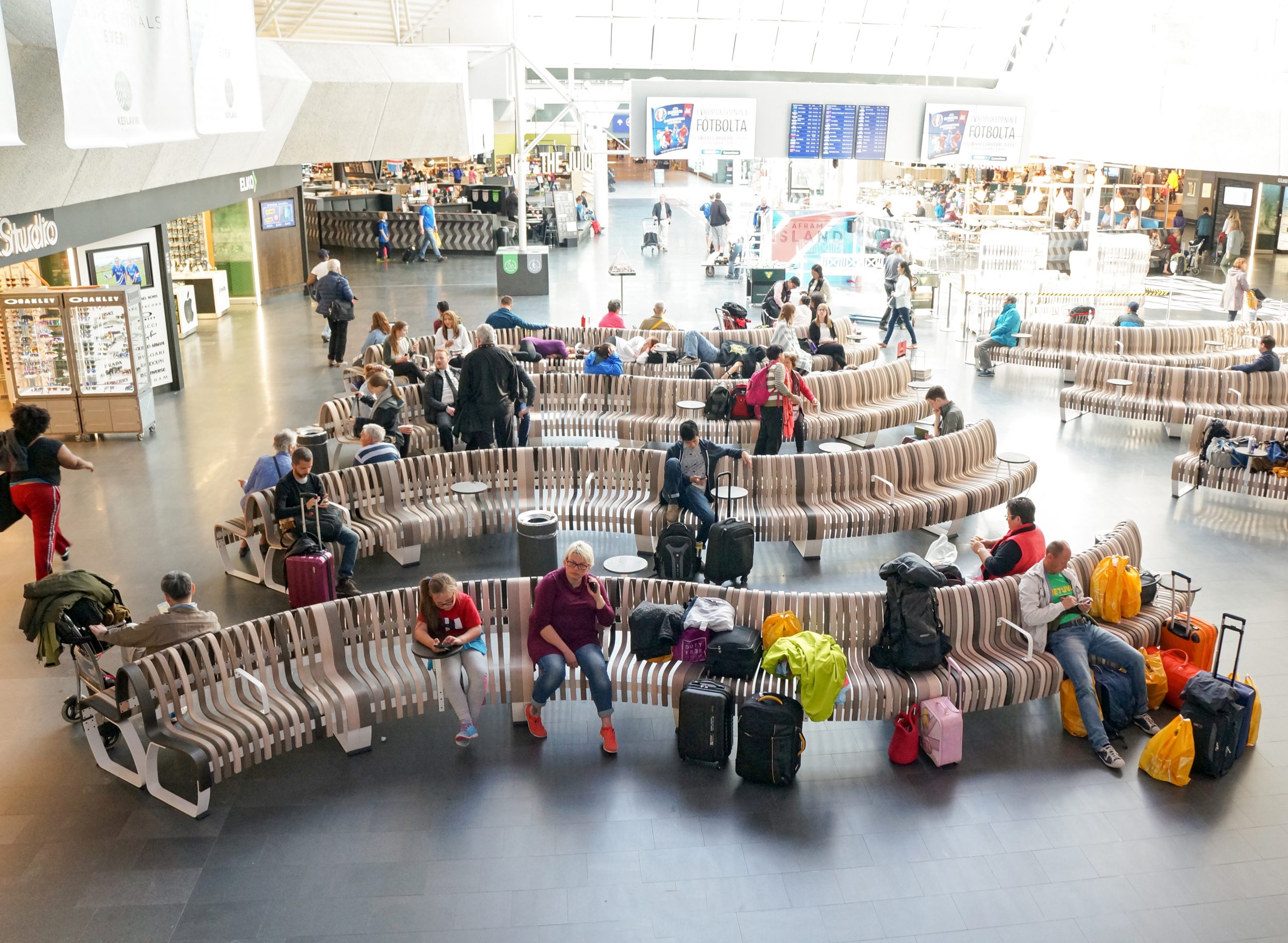 Seating design for passenger satisfaction
International airports strive to connect the world, but how many manage to connect to passengers and their needs? Leaders in the industry typically see an increase in annual passenger capacity as the ultimate goal, investing heavily in new methods of a process flow that streamline the journey between check-in desks and departure gates. Others are blurring the boundaries between landside and airside, making airports as attractive to local consumers as they are to passengers on the move. But while terminals expand with more space for retail, F&B zones, and entertainment areas, many passengers report that they are feeling squeezed.
As airports maximize passenger capacity, space for human traffic is shrinking. Terminal architects and retail developers direct travelers along paths through commercial zones, while relying on F&B venues to provide seating for all. Bigger commercial areas leave less space for terminal seating, with few departure gates providing the required number of seats for passengers boarding a fully-booked flight. Seating shortfalls often impact passenger satisfaction surveys, producing lower ratings than areas with higher ratios of seats.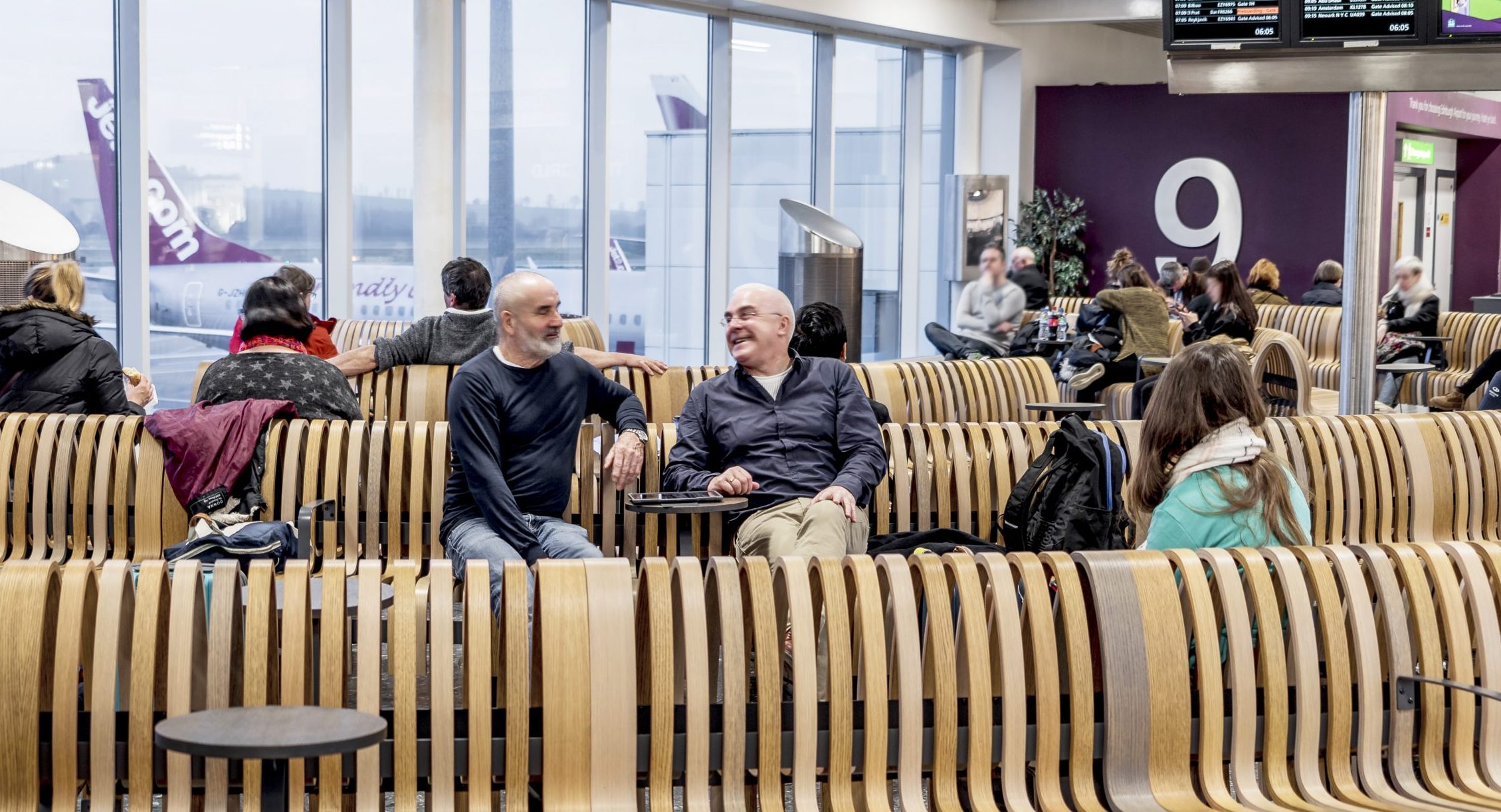 One of the region's busiest airports, Scotland's Edinburgh Airport is served by 33 airlines operating 188 routes, attracting 12.4 million passengers last year alone. As the management implemented the airport's expansion program, they looked for a new system that would increase seating density in the short term, yet expand as passenger capacity increased over time. A solution was found in the form of seating that could accommodate significantly more passengers within a designated area, making efficient use of the space available at departure gates and terminal thoroughfares. The seating systems used in Edinburgh Airport's departure gates at the time occupied 1.6m² of floor space per individual seat. The number of passenger seats increased dramatically when the system was swapped for a streamlined design that requires only 0.9m² of floor space per seat.
The new seating was commissioned by designer Johan Berhin, founder of Green Furniture Concept, whose solutions have significantly enhanced other terminals in Europe and North America.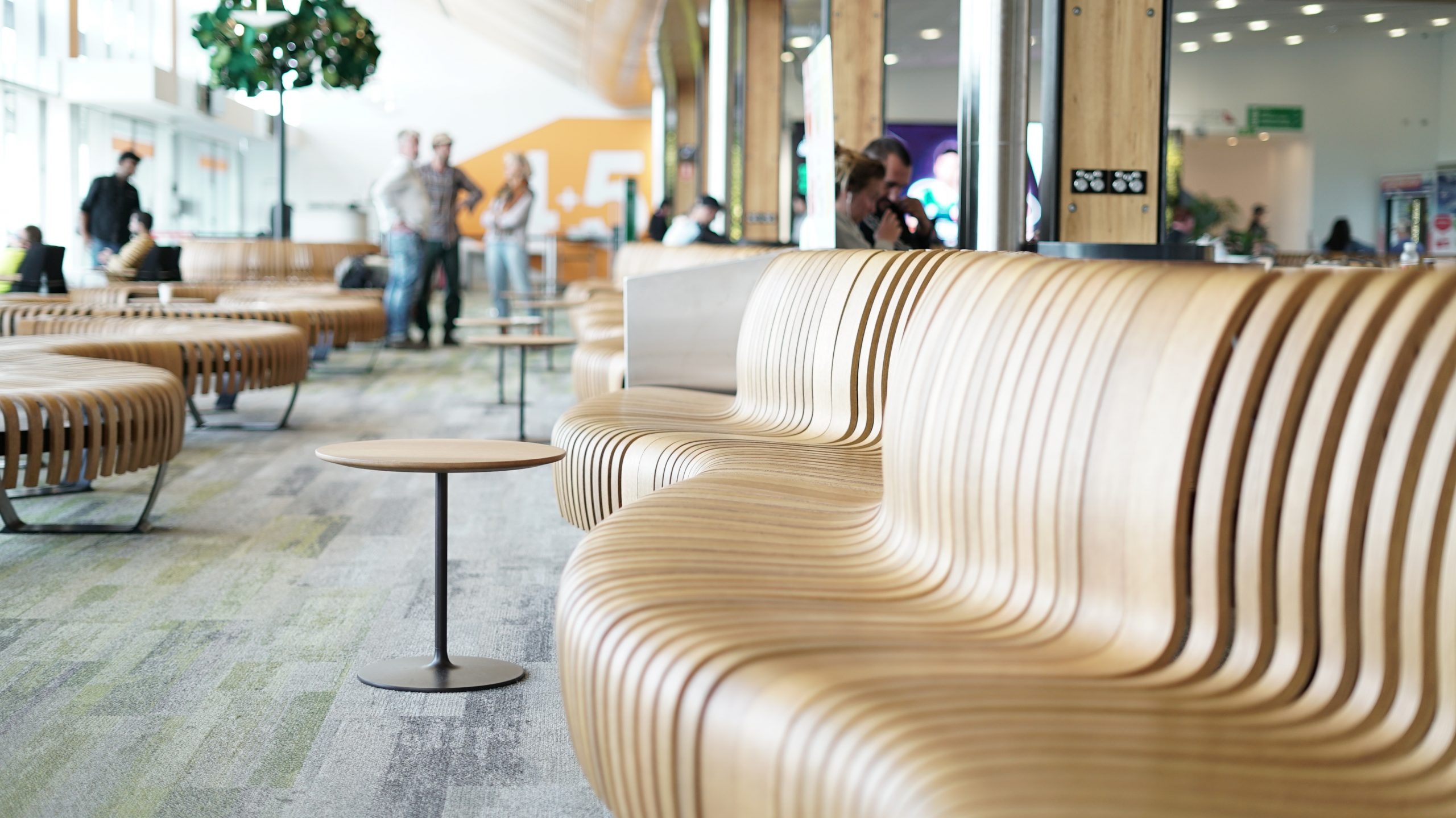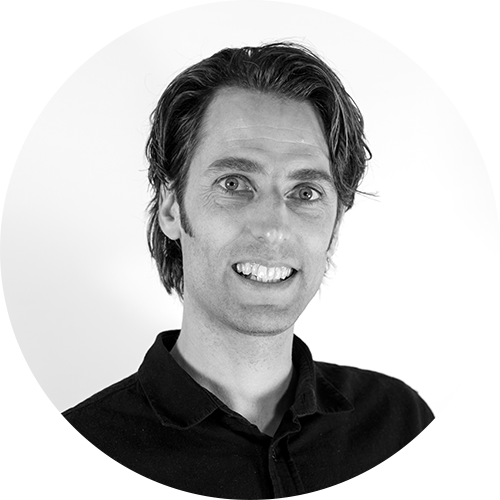 The design concept we created drastically increases the number of seats in a given area. We produce a new type of seating based on non-linear geometries. Our products are made in curving shapes that make much better use of floor space than conventional beam seating does. That's why we can fit 70 seats into a 65m² space without compromising comfort, access or movement. Although the designs are streamlined, the shapes and materials we use heighten the sense of place and make a lasting impression on the passengers.
Johan Berhin, Founder & Designer, Green Furniture Concept
Designers and architects working in the air travel sector face the challenge of directing pedestrian traffic through the terminal while finding unobtrusive ways to direct the flow. 'Finding the right balance of seating density to floor space is important,' Berhin says, 'but you also need to consider the revenue generated by encouraging passengers to spend time in commercial areas.
Regaining the square footage lost to conventional seating systems frees up floor space for queuing at gates and makes room for the additional seating needed in commercial areas. On top of that, seamless designs increase the number of seats in the terminal overall, so it's a win/win situation for everyone.'
The seating Berhin designed at Edinburgh Airport increased the number of seats by 44% at the commercial gate area. As a result, the customer satisfaction rate jumped from 52% to 81% – an immediate increase of 29 percentage points – just by bringing the seating in line with passengers' needs. 'Along with cleanliness, operational efficiency, and good services, the right amount of comfortable seating is a key factor in satisfaction ratings,' Berhin explains. 'Increased passenger satisfaction is reflected in higher retail sales, revealing that seating systems in commercial areas attract travelers and keep them there. A survey carried out by UK retail group intu reveals that when passengers remain in commercial zones for more than half an hour, retail revenues go up by 1% per minute, which is a significant increase.'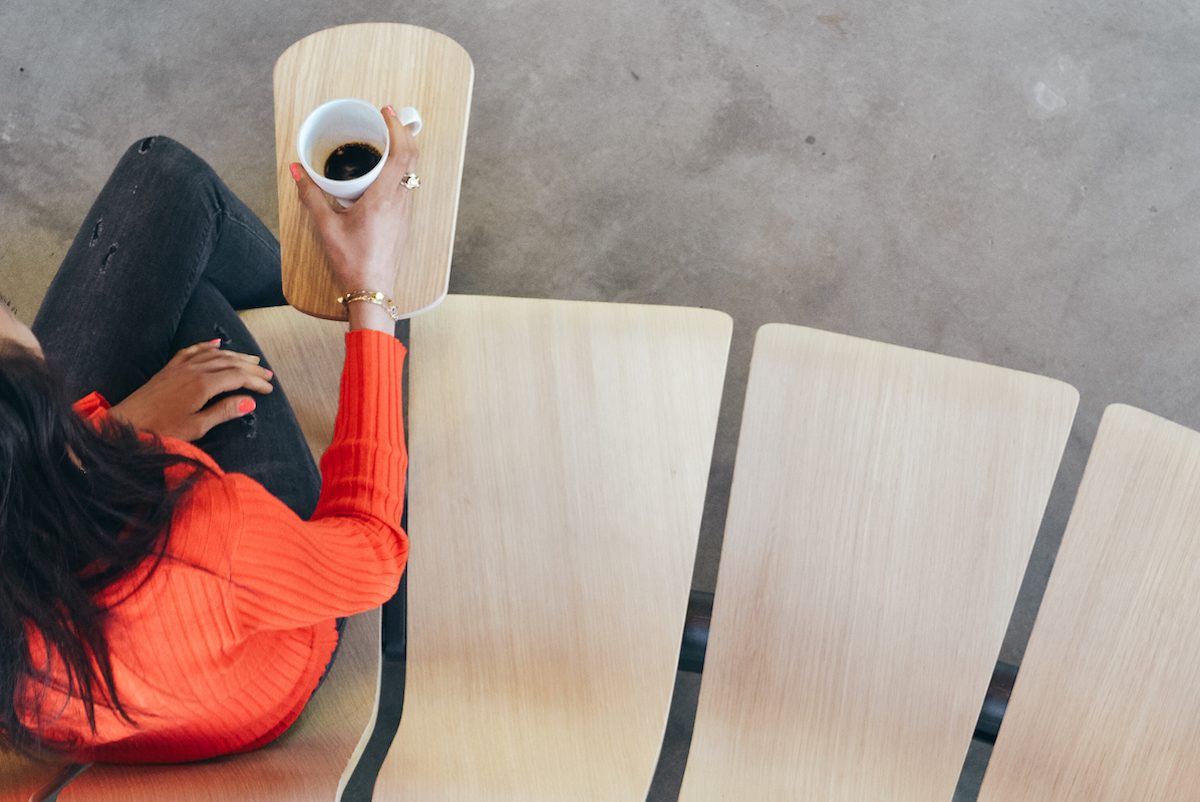 Seating as destination branding
At a time when many airport designers set out to achieve a balance of seating and space, Berhin's approach is simply to maximize the efficiency of each.  Berhin's designs integrate café tables and workstations into the seating itself, making more floor space available by absorbing tabletops, power points, and cup holders within the footprint of the seating. Backrests and seats are contoured to maximize comfort and support, while many designs are made in curving configurations that make it possible for passengers to face each other or sit facing outwards. 'Seating alone does not determine overall passenger experience, but it is one of the most important features in the airport,' says Berhin. 'It's easy and affordable to get the seating density right and therefore optimize the flow through commercial areas and beyond. Good seating will help make the airport a destination passengers look forward to returning to.'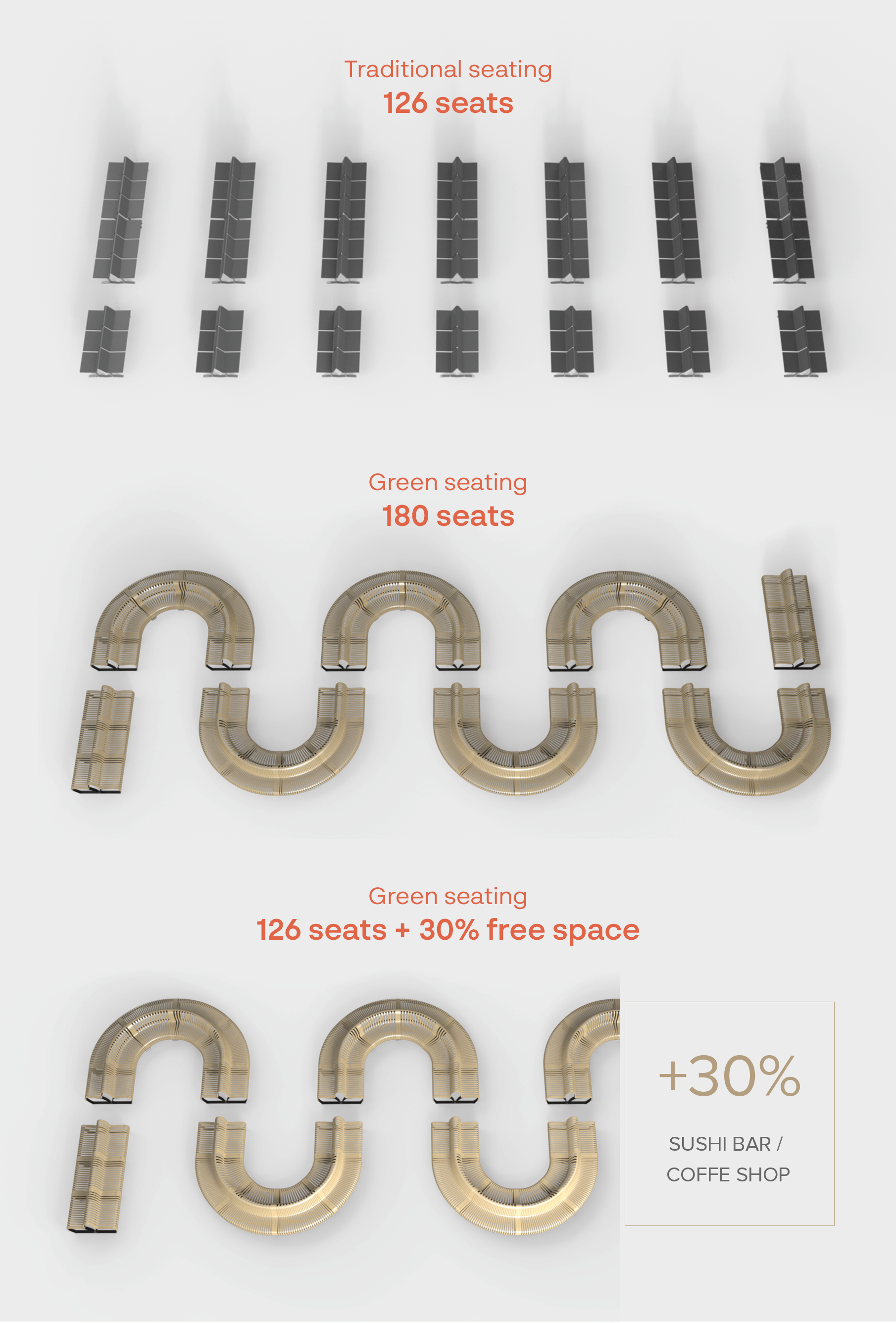 Increase seating density by choosing products with a smaller surface footprint. The extra space can be used for F&B or retail.
Invest in designs that do more than provide seats. The right products can transform the entire passenger experience.
Find ways to create a surplus of seating in high-density areas. Empty, available seats make the surroundings seem more spacious.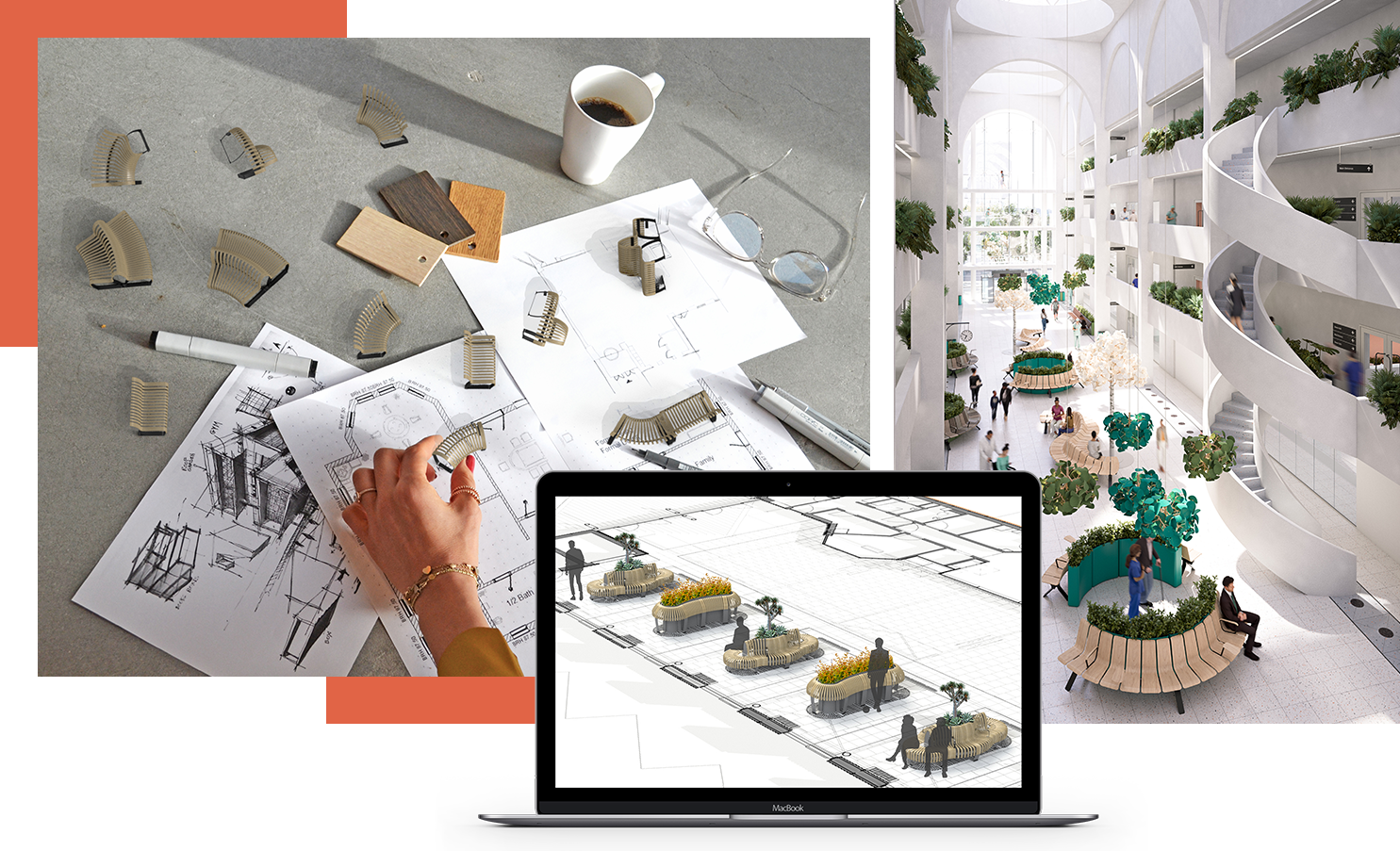 Let us help you design your high-density space
Our in-house designers will help you with a free 3D rendering of your space with the right seating ratio.